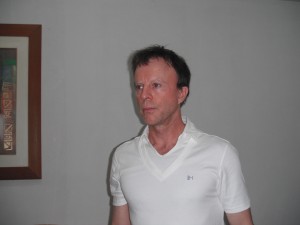 I taught for two years at a small university in Tokyo and then moved to Kumamoto Prefectural university and after a few years gained tenure. During this time I was working on a PHD in science education at Curtin University in Perth, and my Japanese univeristy granted  me a paid research leave to complete my studies.
In 2007 I was invited to help open a new Masters in Teaching English course at Shinawatra University in Thailand. The program attracted students from all over the world and also gave me the impetus to increase my research activities and writing. I took students to several international conferences including ones organised by the Asian EFL journal and at one of these met Roger Nunn.
Last year I began teaching at Gulf University for Science and Technology in Kuwait.
On the research side I am now co-editor in chief of Language Testing in Asia  www.languagetestingasia.com
I am also the editor of  an upcoming volume in the  Language Policy series. http://www.springer.com/series/6209  This new volume, English Education Policy in Asia and the Middle East is due for publication in late 2013. Any academics who wish to submit chapters are welcome to contact me at ltaeditor@gmail.com
Also I signed a book contract to write a volume in the Cultural Studies of Science Education series http://www.springer.com/series/8286 The new book is about the evolution debate and I have about 8 months to complete it!